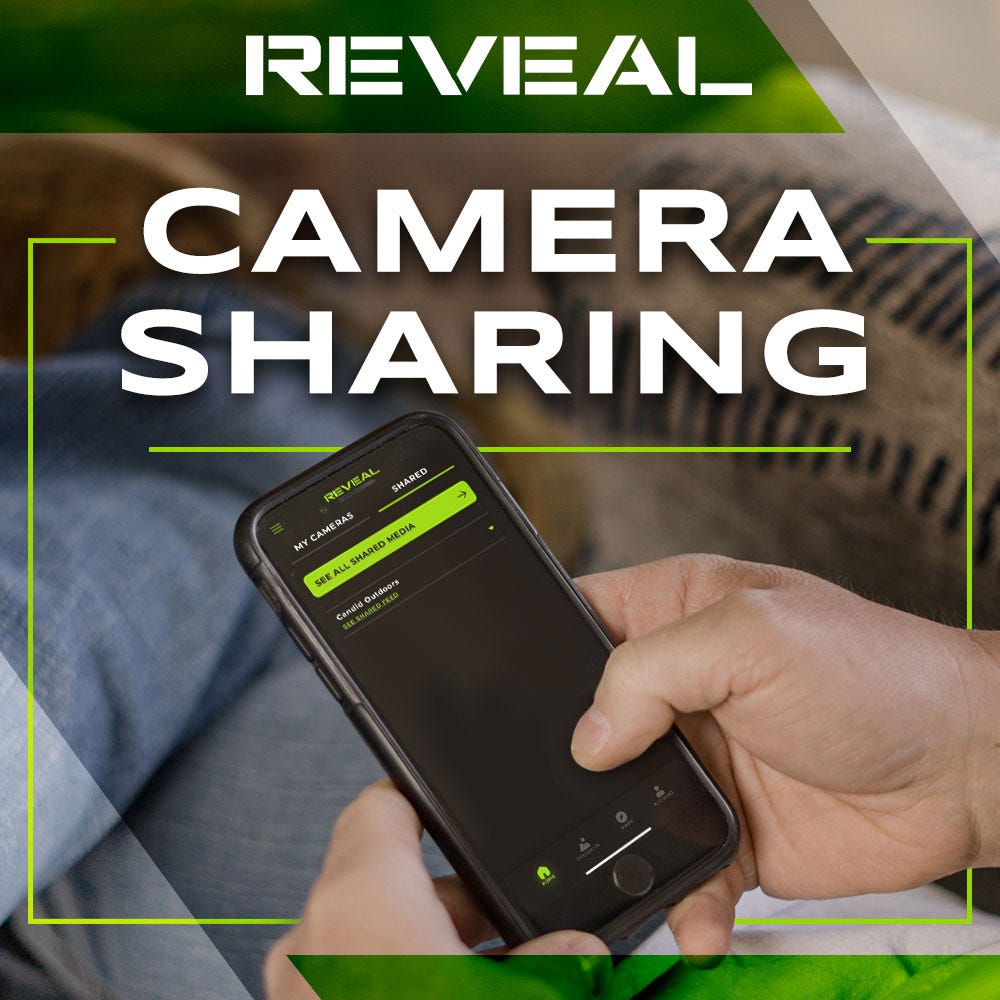 Hey there, fellow REVEAL users! We're here to make sure you're making the most out of your REVEAL cell cam experience, and today, we're diving into one handy feature in the free app – Camera Sharing. Whether you're new to it or looking to master it, we've got your back with these frequently asked questions:
What is Camera Sharing, and How Does it Work?

Camera-sharing feature lets you share your REVEAL account with other users without revealing your login credentials.
You'll need app version 2.5.0 or higher to access this fantastic feature.
The best part? It's totally free!

How Can You Share a Camera?

It's a breeze! Just follow these steps:

Tap the three lines in the upper left-hand corner of the app.
Select "Share A Camera."
Enter the email address of the REVEAL user you want to share with (they must be a REVEAL user, no active subscription required).
Choose the camera(s) you want to share.
Tap Save.

How Will I Know If Someone Shares a Camera With Me?

Keep an eye out for a banner notification.
If you don't see it, make sure to check your notification settings.
Alternatively, select the three lines and go to "Cameras". 'Shared' cameras will have a red dot indicator.

How Can I Accept a Shared Camera Invite?

Simple! Here's what to do:

Select the three lines.
Go to 'MyCameras' and select the 'shared' tab.
Accept all shared cameras or choose individual ones.

What If I Want to Decline Access to a Camera?

No worries – you can do that too:

Select the three lines.
Go to 'My Cameras' and select the 'shared' tab.
Choose the user, hit the "X" to deny access.
Select "Decline invitation."
If you change your mind, simply ask the REVEAL user to re-share.

How Can I View Photos From a Shared Camera?

Easy peasy! Follow these steps:

Select the three lines.

Go to the 'Shared' column.

Choose 'See All Shared Media' or pick a host's camera and select "See Shared Feed" under their name.

Will I Get Notifications for New Pictures on Shared Cameras?

Nope, notifications are only for new cameras shared with you.

Can I Delete Photos from Shared Cameras?

Unfortunately, you can't delete photos from someone else's camera feed shared with you.

Can I Create a Gallery of Shared Photos?

Nope, galleries aren't an option, but you can always download shared photos to your phone.

How Can I Stop Sharing a Camera Feed with Another User?

On the home page, select the three lines.

Go to shared cameras.

Choose the user and toggle the switch from ON (green) to OFF (black).

Tore-share, simply toggle it back ON (it will show as Pending in yellow).

How Do I Turn Off Access to a Camera Feed Shared with Me?

Select the three lines.

Go to 'MyCameras' and then 'Shared.'

Choose the user and camera, then select the trash can icon to stop receiving photos.

Can I Regain Access to Shared Cameras I Removed?

Absolutely, but you'll need the host to send you another invitation.

How Can I Delete a Guest I Shared Cameras With?

Click the three green lines.
Select 'Shared Cameras.'

Tap the select button in the top right.

Check the boxes next to guests you want to remove, or select 'Select All.'

Then, select 'Delete Guests' at the bottom and confirm by selecting 'Remove Guest.'
There you have it, folks! Your FAQs about Camera Sharing in the REVEAL app, answered. Now, you're all set to make the most of this fun feature.